Our systems can handle large or small load capacities depending on your rack storage requirements and product / pallet loads.
Heavy Duty Pallet Racking Systems
Heavy Duty Pallet Racking systems address all types of racking storage needs for industries such as manufacturing and retail distribution centres, retail logistics, government and institutional storage, 3PL and cross docking facilities, outdoor storage, grocery, food and freezer storage, cold storage, document storage facilities, tire storage and much more. Our systems can handle large or small load capacities depending on your rack storage requirements and product / pallet loads.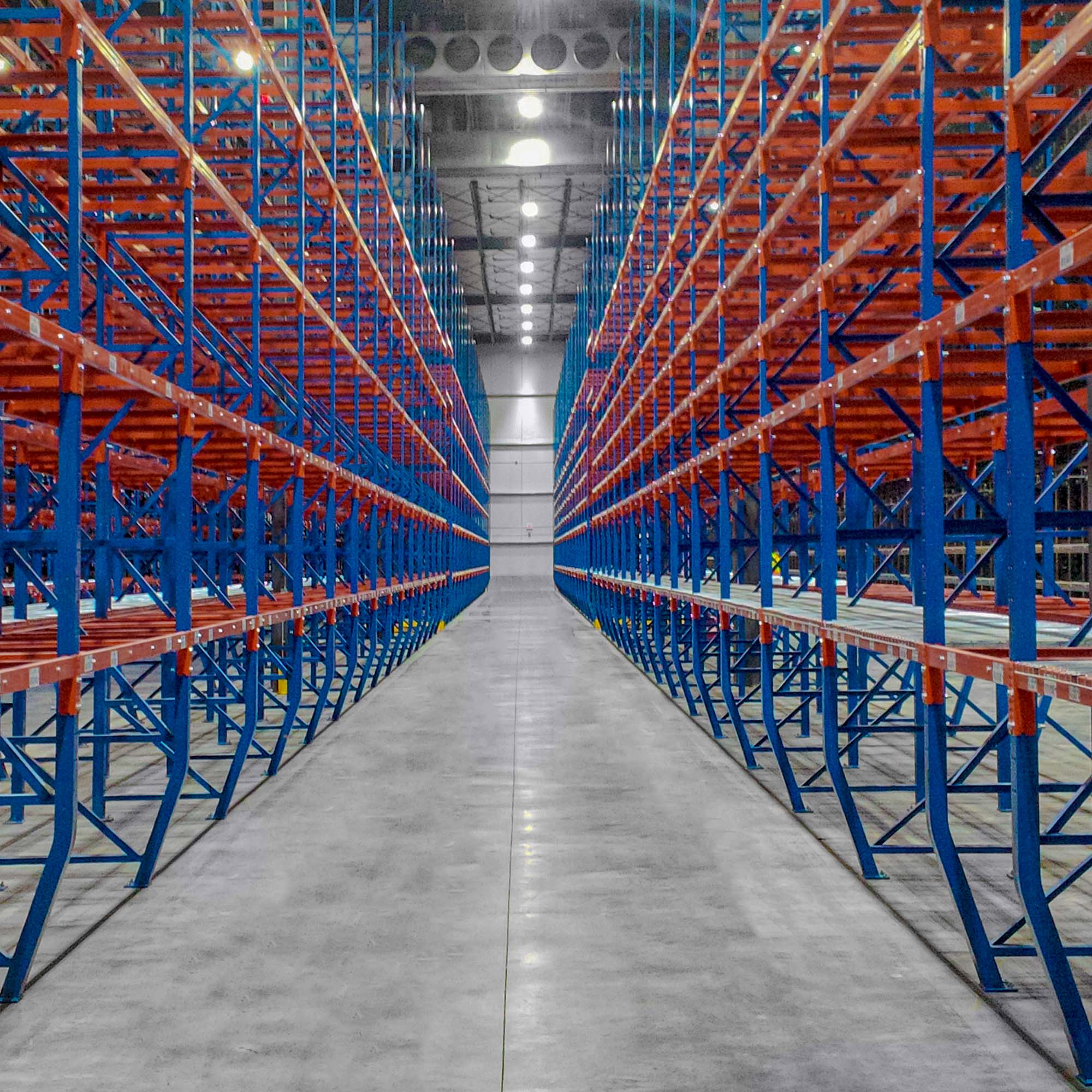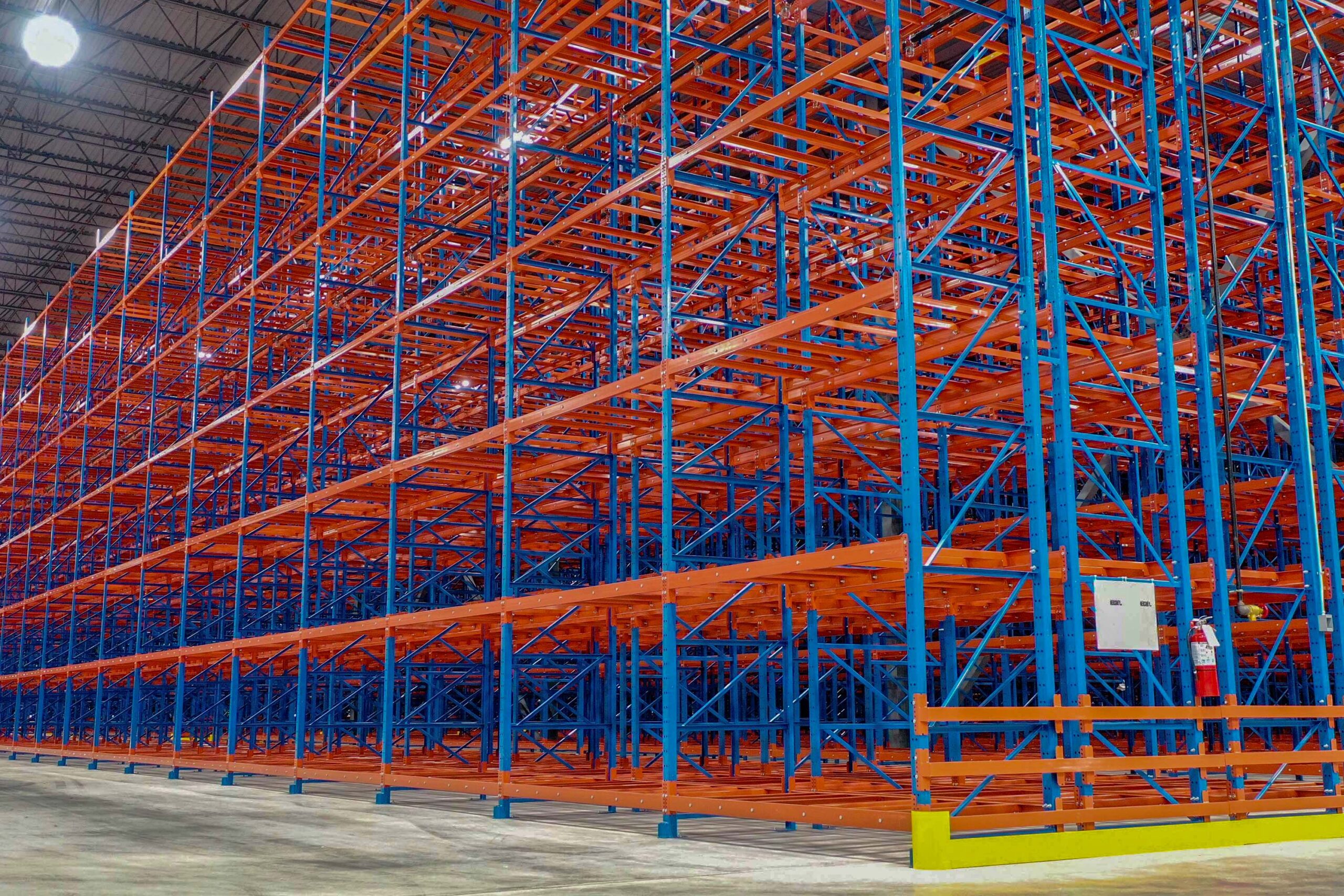 Double Deep Rack features back to back pallet storage two pallets deep. Ideal for increased storage density requirements where lift trucks have extended reach capability.
Double deep selective rack can be easily converted from single selective rack.
VNA – Very narrow aisle rack by NAS consists of the same basic components as Selective Racking, but the access aisles are greatly reduced resulting in increased use of existing cubic space.
In this case, loading and picking is mostly done by rail or wire guided swing reach and picker trucks. For our very narrow aisle racking, all picking locations can be accessed throughout the full height and length of the system.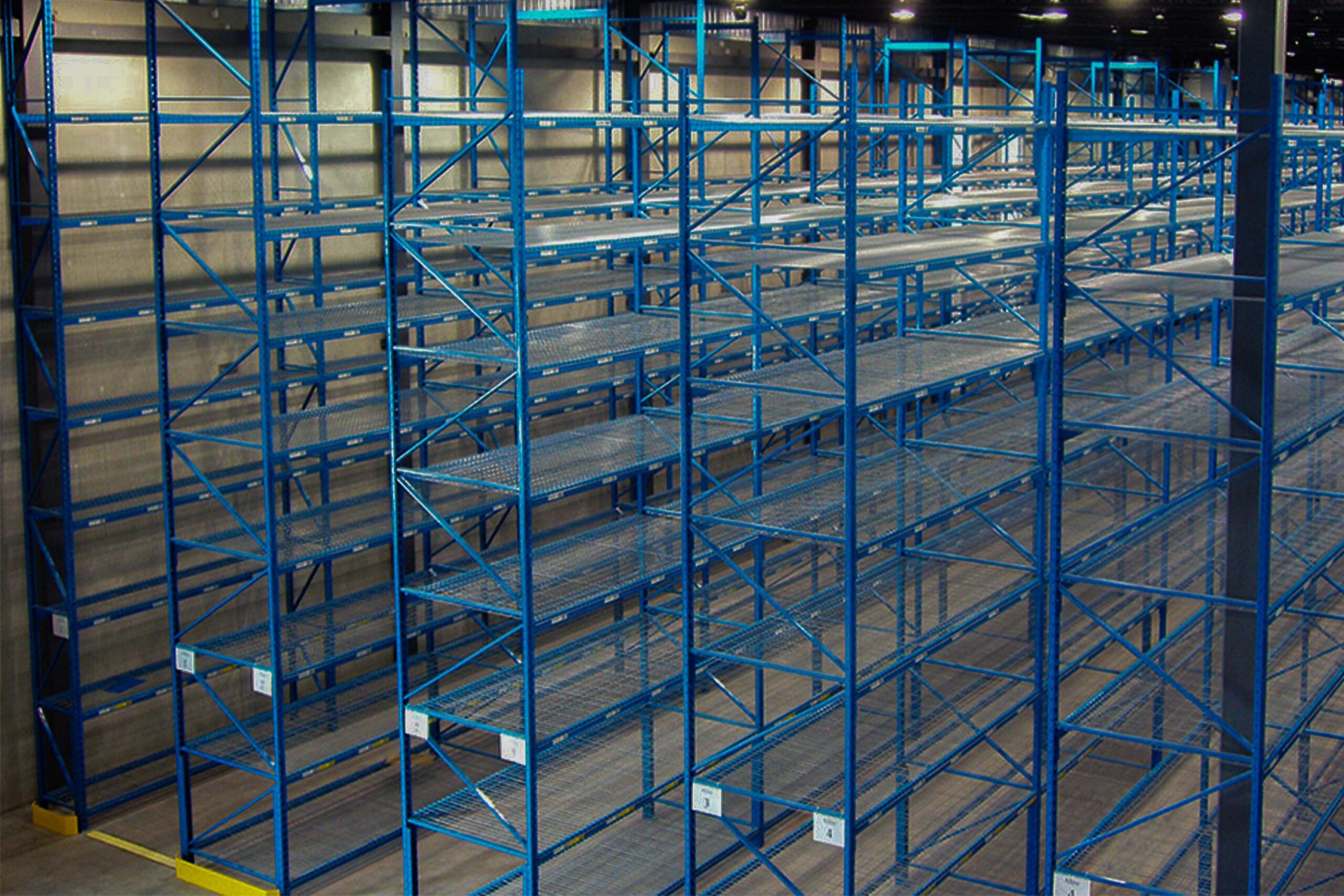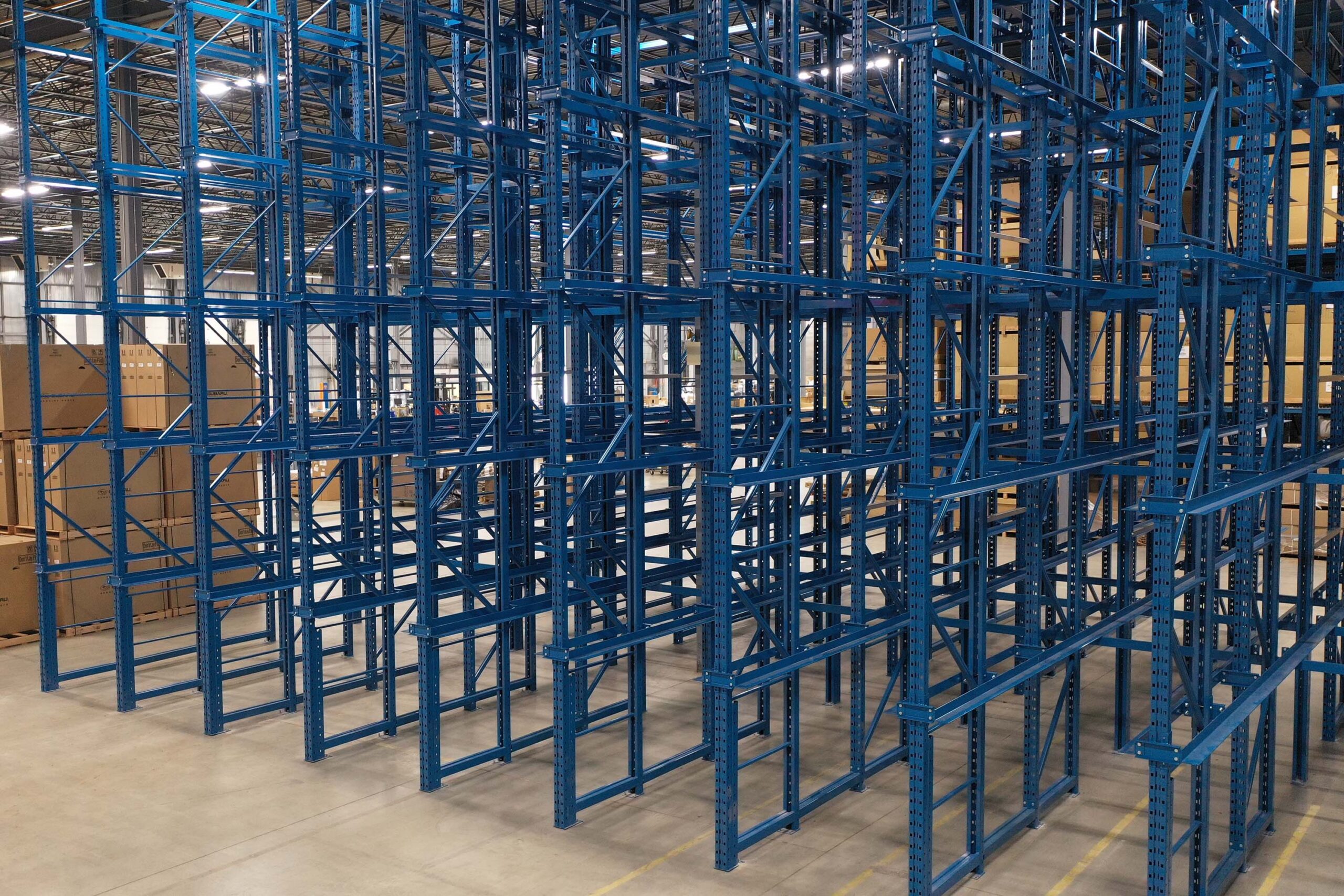 Drive-In/Thru Pallet Racking Systems
Drive-In/Drive-Thru Pallet Racking Systems are designed for loading and retrieving full pallets from the same bay. This system is best suited for high volumes of the same SKU's per bay, providing dense storage. Drive-In Systems are an excellent solution for products that are not time/date sensitive, first-in/last-out (FILO system).
Drive-Thru Systems are used when accessibility from both end of the bay are required in a first-in/first-out (FIFO system). Ideal for time/date sensitive products.
Pallets are stored on rails that run the full length of the rack, generally spanning from two to twelve pallets.
Pushback rack provides increased pallet counts while also offering many more pick faces than traditional high-density storage systems like drive-in racking. Each lane flows independently accommodating multiple products per bay.
Pushback racking operates on the Last-In, First-Out (LIFO) principle per lane. Multiple Pallets are stored on a gravity-fed cart system, allowing retrieval of all pallets from the aisle.
Pushback racking systems are ideal for two to six pallet depths and are typically installed against a wall or in back-to-back rows. Pushback Racking Systems are adaptable to prevent building columns from interfering with the packing aisles.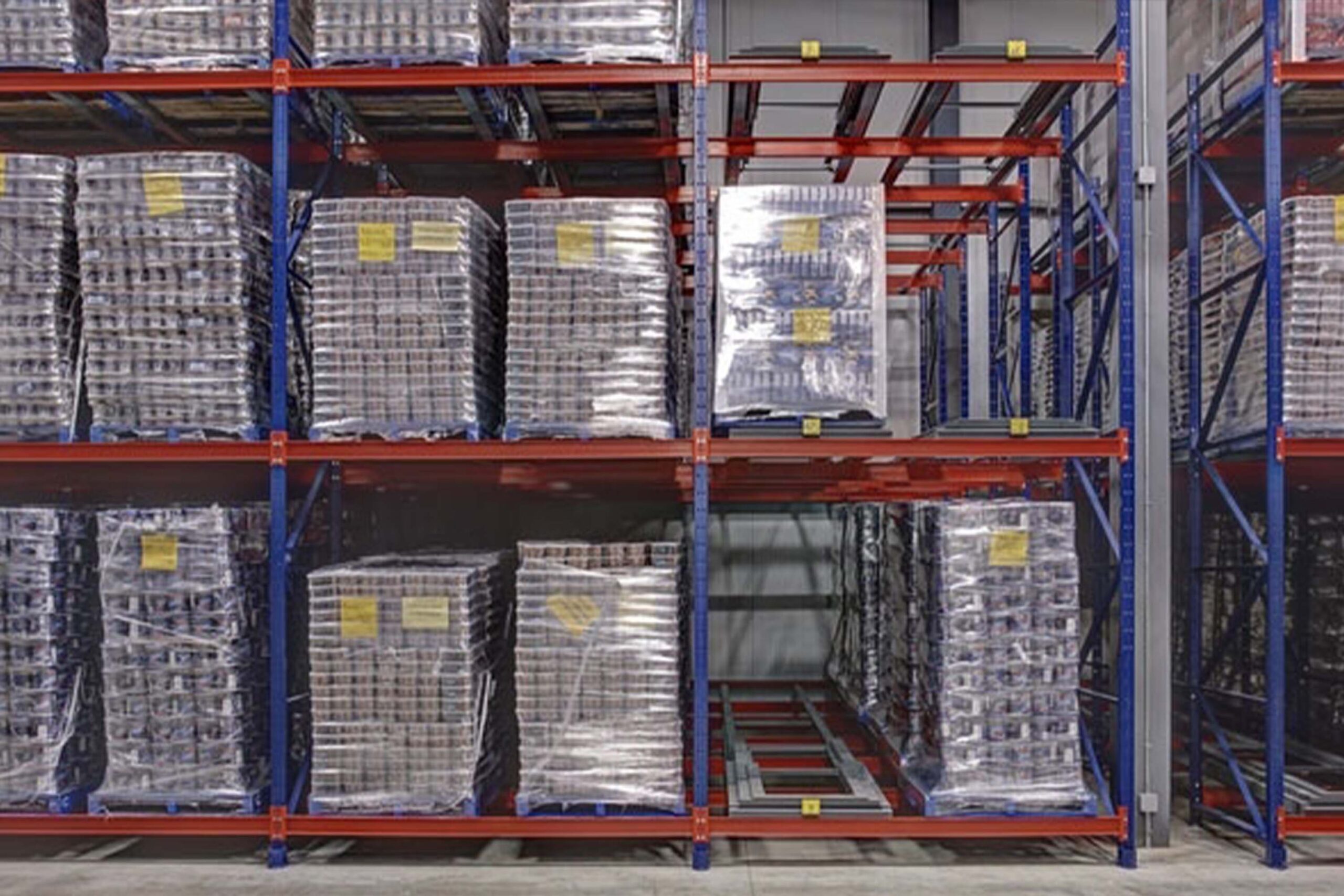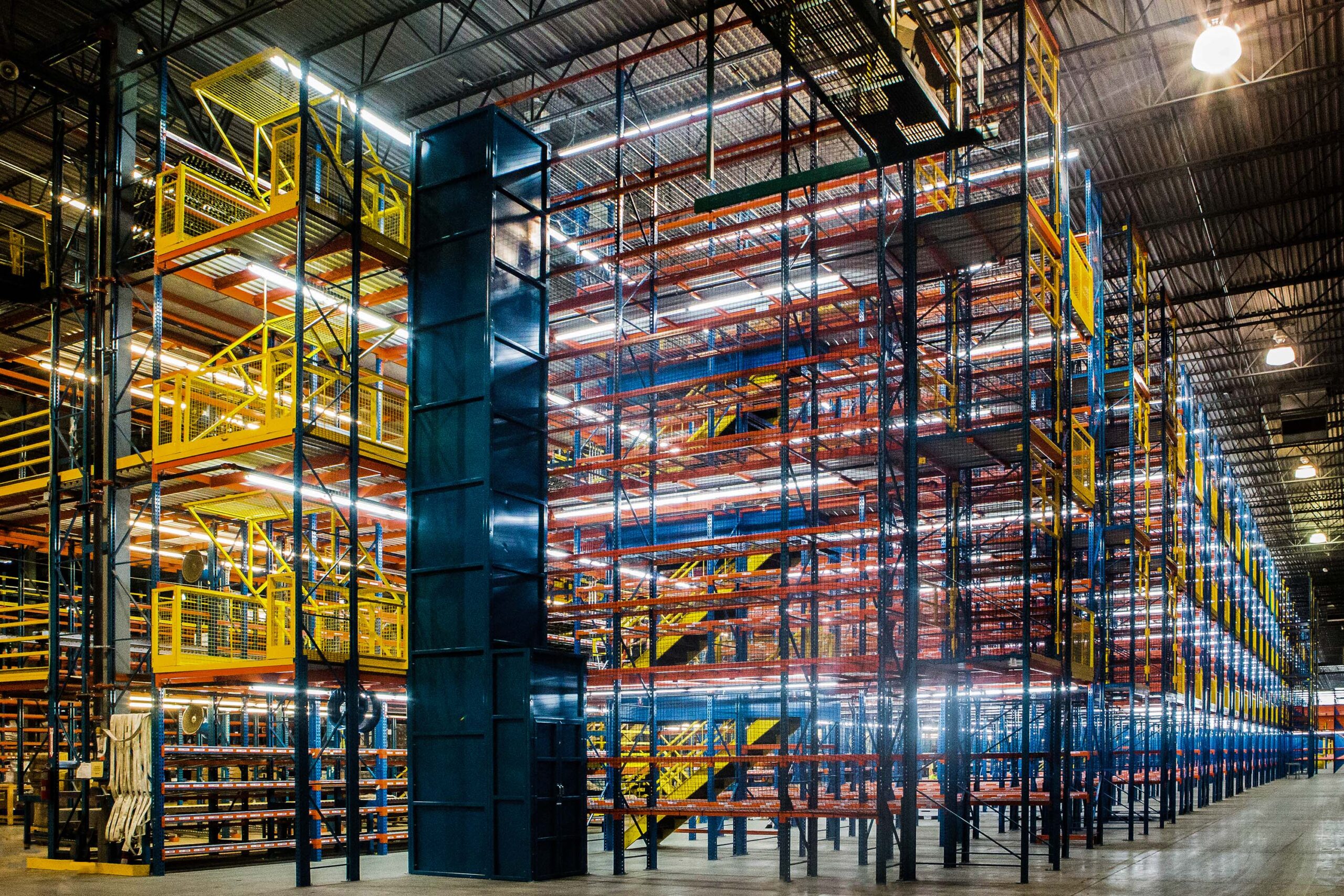 Pick Modules integrate both Pallet Flow and Push Back storage systems. Palletized loads feed conveyors for full box or Carton Flow (or open box) picking. Pickers are continuously supplied with product (as lanes are loaded several pallets deep) and lift trucks always have openings available for pallets. Each works in separate aisles and in concert and without any interference for maximum efficiency. Easily integrated with conveyor systems for cartons or tote handling to upper levels.
Options include:  vertical lifts, stair towers and elevators, as well as partitions with integrated fencing for added security
Upper levels can accept full pallets for quick handling. Existing columns and other obstructions can be worked into the layout plan. Maximize use of empty air space by building upwards – Avoid rental, building or purchasing new space. Systems can start small and later be expanded or reconfigured, if needs arise. Easily disassembled and relocated. Minimal disruption of production during installation.
Cantilever Racking Systems
Cantilever racking is designed to handle a wide variety of products providing unrestricted front access for long and irregular shaped products. Products rest on flat or tapered arms for easy loading. The columns act as backstops and flue space for sprinklers and water penetration.
Cantilever racking is an ideal structure to support a roof, protecting the products from the elements. Steel siding can be added to the sides and backs for added protection and rigidity.